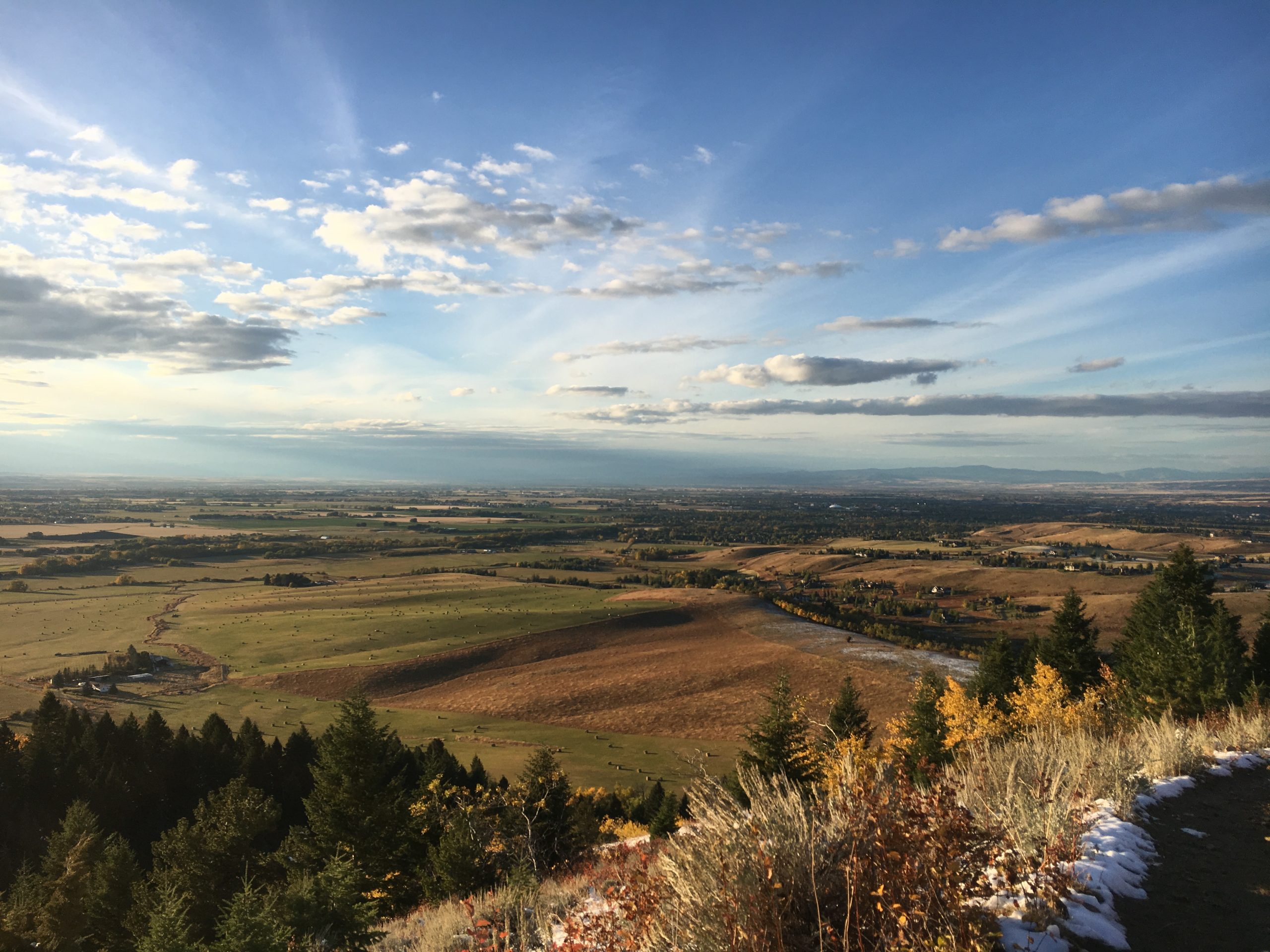 The weather is cooling off but it's still warm enough to get outside and go for a hike! There are a ton of trails in and around Bozeman. Here are some that you will definitely want to add to your list.
Triple Tree Trail
On the south side of town you'll find Triple Tree Trail – a favorite among locals. The Valley view at the top are breathtaking and worth the 2.25 miles to the top! This trail is full of runners and bikers – and considered easy to moderate.
Sypes Canyon
Sypes Canyon is a fairly quick hike located on the North side of town.  You'll go through the Springhill neighborhood to get to the trail head at the base of the Bridgers. You'll gain elevation pretty quickly as you hike the switch backs until you get to the overlook, about 2.8 miles up. You can head back down or keep going to connect with a few other trails: Middle Cottonwood, Truman Gulch or The M Trail.  This 5.6 mile loop is a great afternoon hike close to Bozeman.
New World Gulch Trail
This 2.2 mile trail starts at Bear Creek  and goes through multiple terrain changes until you reach New World Gulch.  Head through the canyon, past the creek and into a heavily wooded forest before coming up on the Gulch. Bring your bear spray and watch for wildlife! Make it a day hike and keep on to Mystic Lake – just another 2.5 miles past New World Gulch.
Palisade Falls
Palisade Falls is a 1.1 mile trail located south of Bozeman in the Hyalite Recreation Area. Begin the trail at the East Fork of Hyalite Creek. It's a mostly paved trail and good for all skill levels. It's a great trail for summer but can get a little slick in winter so if you're looking to enjoy the snowy views bring some good traction boots or a pair of cross-country skis.
Pioneer Falls
Enjoy the scenic drive as you head just south of Bozeman through the Gallatin Canyon. The Spanish Peaks trail is on Ted Turner's property (look for buffalo on the way!) and is the starting point for 3 trails so make sure you're on the right one to Pioneer Falls. Pioneer Falls trail is a 7.5 mile loop without a huge elevation gain so any level hiker can do it. You will get all the best views on this hike – waterfall, mountains and meadows.
Sacajawea Peak
This hike is challenging but worth it! This 4 mile hike starts out at Fairy Lake (which is gorgeous and a perfect summer hang out spot!) and gains roughly 2,000 feet. Fair warning, the road to Fairy Lake can be a little rough so you'll want 4WD.
Enjoy the beautiful changing colors of Fall, bring an extra jacket and a camera!
To find more trails in Gallatin County, Click Here.  All Trails is also a great hiking resource.
Safety first! Here are some hiking safety tips to keep in mind while enjoying the great outdoors:
Bring the appropriate gear. Montana's weather is sometimes unpredictable, not to mention the difference a little elevation makes in temperature. Bring an extra layer or two and throw a couple of snacks in your pack – just in case!

Let someone know where and when you are hiking so they know when to expect you back

Watch for wildlife. Bears are very active in the fall and are searching for the last of their food before hibernation. Bring your bear spray and keep it within reach at all times.