Cabinets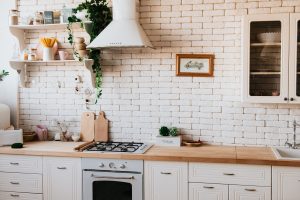 Refacing or painting your cabinets are two great options to update the look of your kitchen without breaking the bank.  If you're looking to change up the aesthetic appeal of your kitchen, your cabinets are a good place to start.  Refacing involved replacing the doors, drawers and hardware and covering cabinets with a brand new veneer.  Especially if you're dealing with older cabinets from the 70's or 80's, updating them with a more modern door will be aesthetically pleasing.  Painting cabinets is more affordable than refacing and can be done by a professional or DIY.
Backsplash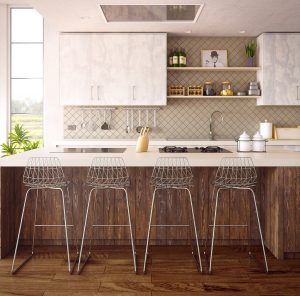 Another way to freshen up your kitchen is with a new backsplash.  Tile, beadboard, shiplap and high gloss paint or vinyl wallpapers are most of the options – each with varying cost and DIY ease.
Countertops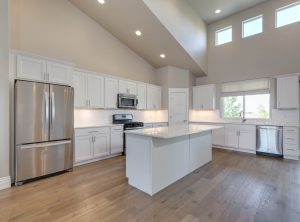 For countertops, you can find granite at the lower end of the price range at a local stone yard. Formica is an affordable option and comes with pattern and texture choices.
If you aren't looking to add more cabinets but need more counter space, adding a premade island or bar-height table might be a good option. Or, if you have a more contemporary kitchen, consider purchasing a stainless-steel food prep table from a restaurant supply company.
Shelving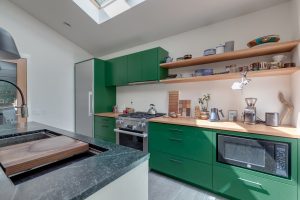 Open shelving is popular and can create a whole new look in a kitchen.  Display beautiful serving pieces and dishes while keeping important storing space.
Lighting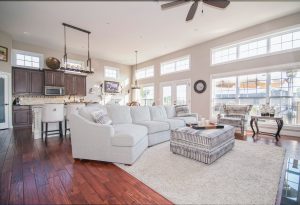 Lighting can dramatically change the look and feel of any room. Take out harsh fluorescent lights and replace them with can lights.  Under-cabinet lighting can also make a huge difference in the look and feel as well as ability to see while cooking.  Over the kitchen sink and bar is a great place to add a pendant lighting that can be statement pieces.
Pulls and knobs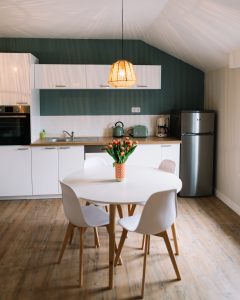 Whether you're refacing, repainting or leaving your cabinets as they are, new cabinet pulls and knobs can go a long way toward creating a new look in your kitchen. Add a pop of color or create a modern look and feel with sleek metal.
Appliances and plumbing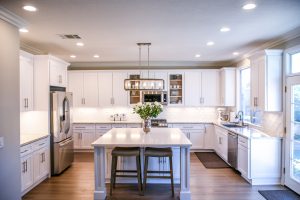 Complete your updated kitchen with new stainless steel appliances. For less than $500, you can get a new stainless-steel electric range; for less than $700, a brand-new top-freezer refrigerator. You can easily update your faucet for under $100 (although, of course, you could spend a lot more). And a new farmhouse sink could be yours for less than $400.