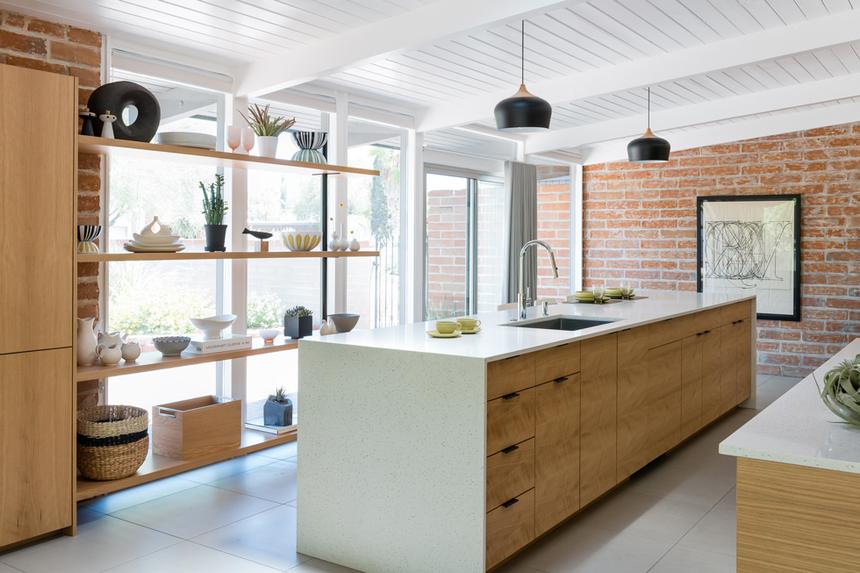 Let more natural light shine indoors with these simple tips.
Fall and winter start cozy — who hasn't used the colder temperatures as an excuse to binge-watch Netflix while swaddled in a couch blanket?But come January, staying indoors can feel less like a treat and more like you're living in a cave.Here's how to make your house lighter, brighter, and cheerier with more natural light indoors.
#1 Take the Screens Off Your Windows
You'll get 30% more sunlight shining indoors without screens on your windows.
Here's the best part: Sunlight warms your room and saves you money on your heating bill. It's solar power — for you!
Be sure to store your screens in your garage or basement where they won't get damaged. In the spring you'll want to put them back on so you can keep that 30% of the sun out and run your cooling system less.
#2 Hang Outdoor String Lights Indoors
They don't give off a lot of light, but they're cheerful as heck.
Drape them around a window or a mantel, or hang a string of LED glimmer lights in a tall potted plant. They'll add a layer of soft light to your room and remind you of fireflies, flip-flops, and patio parties.
#3 Steal a Little Swedish Chic
Scandinavians excel at making a home light and airy because they've got places where the sun doesn't rise at all from November to January.
And you thought you had it bad.
To adapt to weeks and weeks of polar night, Swedes keep interiors pale to reflect and amplify light.
Think white walls, light woods for furniture and floors, and light upholstery. To get the look without getting rid of your dark furniture and floors, put white or light gray slipcovers on your sofa and chairs, and put down light-colored rugs.
The fastest way to bring a little Sweden into your room is to paint it. Try creamy white, pale blue, or dove gray.
#4 Change Your Bulbs
Replace those incandescent bulbs and their yellowy light with LEDs, which produce a brighter, whiter light.
But get your bright right:
The higher the K rating on the bulb, the cooler and whiter its light.
For cool, white light, opt for a bulb rated 3,500K to 4,100K.
For blue-white light that's closest to natural daylight, use a bulb between 5,000K and 6,500K.
Unless you live in Sweden (see above) you may want to leave the uber-high K bulbs for grow rooms and seasonal affective disorder therapy clinics — because they're as bright as real sunlight on a hot summer day at noon. You'll need sunglasses to read.
Related: Dirty Light Bulbs Are Depressing, and Expensive, Too
#5 Hang Mirrors
Make the most of that weak winter light by bouncing it around the room with mirrors.
If you don't want the distraction of seeing your reflection all the time, use a large, convex one — also known as a fish-eye mirror. It will amplify light better than a flat one. Another option: Hang a gallery wall of small mirrors.
#6 Replace Heavy Curtains With Blinds or Roman Shades
Fabric curtains, while quite insulating, block light and make a room feel smaller and more cramped, especially if they're a dark color or have a large print.
Try Roman shades or a simple valance paired with blinds to let in the maximum amount of natural light.
#7 Trim Branches and Bushes That Block Light
If you look out your windows and see the tops of your bushes, grab your pruning shears and get whacking.
You don't want anything blocking that precious natural light. Same for tree limbs that may be arching down and blocking windows. Cut them off.
#8 Clean Your Windows
Dirty windows block a lot of natural light.
Admit it, yours are kind of cruddy because who remembers to block out an afternoon to clean the windows?
So get it on your list. Clean the glass inside at least once a month and the glass outside once a year. Your serotonin level will thank you.
#9 Swap Your Solid Front Door for One With Glass Inserts
A solid front door can make your house look and feel as dark as a dungeon.
Get rid of it and install a half-light or full-light door that lets the natural light stream in. For even more natural light, add glass sidelights and a glass transom.
The median cost of a new door is $2,000 for steel and $2,500 for fiberglass, before any extras, but a new door will add curb appeal.
Curb appeal equals higher resale value. And coming home in the evening to the warm glow of light radiating out the glass panels in your front door is an instant mood lifter.
#10 Add a Skylight
It's the ultimate way to bring more natural light into your house. A window only catches sun for a couple of hours a day, but a skylight lets in the sun all day.
An indoor view of the sky makes deepest January more tolerable. And feeling the warmth of the sun on your skin, light streaming from above, is liberating. A skylight, installed, can cost as much as $3,000. A cheaper alternative is a tubular skylight, which costs around $1,000.
If you're really good with tools, you can install a tubular skylight yourself. Don't even think about installing a full-blown skylight yourself.
#11 Add Plants