Wondering what interior design trends are coming in 2020?  Here are a few to look for and incorporate into your home! The overall themes of interior design this year are authenticity, color and natural materials and textiles.
Out with Grey, In with Color
Cool grey tones made a big impact on interior design the past couple of years, but it looks like they are being replaced with warm colors and jewel tones.  According to a recent article on forbes.com, Dolley Levan Frearson who is the co-founder of High Fashion Home predicts shades of pink (which are a more sophisticated evolution of the millennial pinks we've seen in recent years), will be strong in 2020. "I also see a lot of soft peachy corals and terra cotta—colors that feel soft yet grounded in earth tones. I also love golden yellow tones in lush fabrics like velvets to buttery, caramel leathers or leather-look," she says.
Bold Trim And Ceilings
High contrast design is making a comeback in design.  "Bold, colorful trim can be either part of a wild, eclectic look or actually a very livable element in a more sedate home. Because trim usually has a relatively small surface area, painting it a fun hue like lemon, pink or sky blue adds a pop of color (and definite personality) without adding as much drama as a full wall treatment."(houzz.com)
Two Toned Kitchen Design
As all white kitchen design slowly trends out, bold two-tone kitchens are coming in style.  A mix of bold color and other material such as wood or metal are gaining popularity.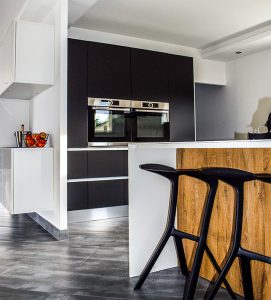 Pattern Mix
Brave pattern and color mixing will be increasingly popular this year. "We're here to tell you that if you're not using patterns, you're missing out on a extra level of visual interest that really makes a space pop." (freshome.com)